Q: What kind of vehicle is on the top right corner of this website?
A: The vehicle that I own is titled as a 1970 AM General M35A2.
As shown below in the answer to the next question the military built the M35A2 as a 2½ ton cargo truck, and soldiers nicknamed them "deuce and a halfs". I shortened the M35A2 by over 3 feet and removed one of the rear axles. Now I just call it a "Deuce". When repainting the Deuce I found that it was originally built as a "gasser" in 04/21/1953. In 1970 the gasoline engine and transmission were pulled out by the military and they were replaced by a White multi-fuel diesel engine and Spicer 3053A transmission. The transfer case and almost everything else on the Deuce stayed the same to my knowledge.
Q: What is a M35A2?
A: Wikipedia states the following-
"The M35 family of trucks is a long-lived vehicle initially deployed by the United States Army, and subsequently utilized by many nations around the world. A truck in the 2½ ton weight class, it was one of many vehicles in US military service to have been referred to as the "deuce and a half." While the basic M35 cargo truck are rated to carry 5,000 lbs (2,300 kg) off road or 10,000 lbs (4,500 kg) on roads, they have been known to haul twice as much as rated. Trucks in this weight class are considered medium duty by the military and Department of Transportation. The M35 series formed the basis for a wide range of specialized vehicles. The M35 started out in 1949 as a design by the REO Motor Car Company. The first vehicle in the family, the M34, was quickly superseded in military usage by the M35, the major difference being the M35's 10-tire configuration versus the M34's 6-tire "super-singles" configuration.

An M35A2 cargo truck with winch is 112 inches (2.8 m) tall, 96 inches (2.4 m) wide and 277 inches (7.0 m) long, and 13,030 lbs (5,910 kg) empty (13,530 lbs (6,140 kg) empty when equipped with the front mount winch, according to dashboard dataplates). The standard wheelbase cargo bed is 8'x12' (2.4 x 3.6 m). The M35A2 was available with a canvas soft top, as pictured, or a metal hard top. Metal hard-top configurations are most often found on vehicles that have been equipped with cold-weather gear, including additional insulation in the cab, as well as engine coolant or multifuel-fired cab personnel heaters.

The M35A2 is popularly powered by a LDT 465 engine, made by either Continental Motors Company, Hercules, or White Motor Company. It is an in-line, 478 cu. in. (7.8 L), 6 cylinder, turbocharged multifuel engine developing 134 bhp (100 kW) and 330 ft·lbf (447 N·m) of torque. This is coupled with a 5-speed manual transmission and divorced 2-speed transfer case (either a sprague-operated transfer case (Rockwell 136-21) or air-operated selectable transfer case (Rockwell 136-27)). Multifuel engines are designed to operate reliably on a wide variety of fuels, to include diesel fuel, jet fuel, kerosene, heating oil or gasoline. Gasoline should only be used in an emergency because it does not properly lubricate the injector pump. While using gasoline, common practice calls for the addition of at least 1 quart of clean motor oil per 15 US gallons of gasoline (1 liter per 60 liters) for proper pump lubrication where available.

The curb weight of an M35 is between 13,000 lbs (5,900 kg) and 16,000 lbs (7,300 kg) empty, depending on configuration (cargo, wrecker, tractor, etc.). Its top speed is 56 mph (90 km/h), though maximum cruising speed is approximately 48 mph (77 km/h). Fuel economy is 11 mpg-US (21 L/100 km; 13 mpg-imp) highway and 8 mpg-US (29 L/100 km; 9.6 mpg-imp) city, giving the deuce a 400-500 mile (600-800 km) range on its 50 US gallons (190 l; 42 imp gal) single fuel tank. On average, most operators experience tank averages of 8-10 mpg for an unladen vehicle.

Brake system is air-assisted-hydraulic six wheel drum with a driveline parking brake, although gladhands exist on the rear of the vehicle for connection to trailers with full air service and emergency brakes. Braking performance of the truck is similar to other power drum brake vehicles of this size. Each drum was designed with maximum efficiency in mind, and individual drums can dissipate up to 12 kW of braking heat. Due to this brake system and GVWR under 26,001 lbs (11,794 kg), the big deuce can be driven without a commercial driver's license in most states. Even California does NOT require a CDL to operate an M35 on public roads because even though it has three axles and an air-assisted braking system, the maximum gross weight is still under 26,000 lb (12,000 kg), making it eligible for class C on-road driving; and because the primary braking system is hydraulic, not air.

The electrical system is 24 volt, using two 12 volt 6TL-series military grade batteries run in series.

Some deuces are equipped with a 10,000 lb (4,500 kg) capacity PTO-driven front winch manufactured by Garwood."
Q: How can you buy one of these?
A: The military auctions off all older vehicles when new versions come out.
In 2011 I purchased my Deuce and a half from a private owner in Georgia. He had purchased the Deuce and a half from a military surplus auction at Warner Robins Air Force Base. These retired military vehicles can be titled and driven on US roads without any problems. Some larger military vehicles require a CDL, but not a Deuce and a half.
Q: Why on earth did you buy this thing?!
A: I like unique vehicles.
The deuce will be used for parade duty, military rallies, and off-road excursions. If another hurricane blasts Louisiana I will be better prepared than most. And let us not forget about the Mayan calendar running out in December 2012.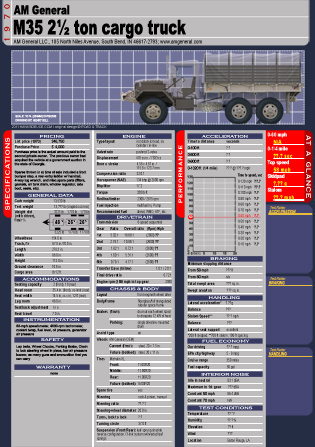 Click the spec sheet above to enlarge it